. LOIRE sweater collar trucker SAINT JAMES. New addition to the SAINT JAMES "L'Atelier", line ST. JAMES "L'Atelier" combines elegance and relaxation in a dress-code always marine. This collar zipped trucker, 100% WOOL sweater is knitted in 1/2 English coa
Ref.:

SJLOIREH16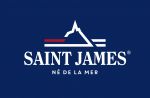 Special Price:
169.00 €
Regular Price:
169.00 €
Delivery

Free from 30€*

7/7 Customer Service

+33 (0) 298 571 040
10:00/12:00 a.m.
2:00/7:00 p.m.

Payments

Credit card - PayPal

Exchange or recovery

Recovery guarantee

Customer benefits

Offres exclusives

Satisfied or refunded

Complete refund
LOIRE sweater collar trucker SAINT JAMES.
New addition to the SAINT JAMES "L'Atelier", line ST. JAMES "L'Atelier" combines elegance and relaxation in a dress-code always marine.
This collar zipped trucker, 100% WOOL sweater is knitted in 1/2 English coast.
Length: 71 cm. Straight cut.
100% wool, 1/2 English coast.
Brand :

Saint James

Customer benefits :

This product is eligible for our offer reserved to our customers.
1889 : LES FILATURES SAINT JAMES C'est en 1889 que l'atelier "Moulin du Prieur" devient officiellement la société anonyme "Filature Saint-James".